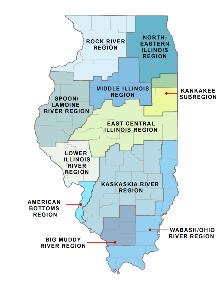 Due to projected growth of the population and economy, Illinois could require 20 to 50 percent more water in coming decades. Ensuring adequate and reliable supplies of clean water for all users at reasonable cost requires us to think ahead into the near future. As a state, we need to know how much water will be available, how much water we will need, what the options are for providing additional supplies, reducing demand, and what the impacts and costs will be.
Since 2006 the Illinois Department of Natural Resources (IDNR) has funded the Illinois State Water Survey to lead regional water supply planning activities. Eleven planning regions have been defined throughout the state, and the Water Survey has done work for the East Central Illinois Basin Region, Kankakee Subregion, Kaskaskia River Basin Region, Middle Illinois Region, Northeastern Illinois Region, and Rock River Region. Future water supply planning will be conducted in the remaining regions.
A key component of this water supply planning work is groundwater modeling. The Illinois Groundwater Flow Modeling Framework is capable of assessing a wide variety of groundwater issues at local, regional, and interstate scales.
The Water Survey has created multiple interactive maps to help people understand water use and issues in Illinois. One of these interactive maps identifies where each of the more than 1,300 communities in Illinois obtains its water for municipal, industrial, and residential use.