Northeastern Illinois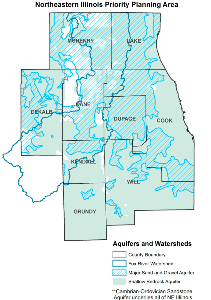 Northeastern Illinois, which comprises the greater Chicago region, was identified as one of two primary regions for water supply planning in the Governor's Executive Order 2006-01. The Water Survey's initial scientific study of the Northeastern Illinois region was completed in 2012.
Northeastern Illinois is the most complex region in the state with respect to water supply planning, with multiple sources of and demands for water. The dominant source of water in the region is Lake Michigan, which supplies about 85 percent of water used for public systems. Its withdrawals are federally restricted and regulated by the Illinois Department of Natural Resources. Decreasing withdrawals in the last decade mean that Lake Michigan water may be available for communities in outer suburbs.
The greatest supply concern at present is in the southwest suburbs, centered around Joliet. More than a century of withdrawals from the deep, confined sandstone aquifers has led to unprecedented drops in water levels. Current pumping is clearly unsustainable, and Water Survey modeling has suggested that some production wells may fail as early as 2030. With assistance from Water Survey experts, communities and industries in the region are looking at alternative sources of water, including a new pipeline to deliver Lake Michigan water. Learn more about declining groundwater levels in these aquifers in this short video.
Shallow aquifers are important in many parts of the region, including the northwest and southern suburbs. However, they are not found throughout the region and thus not available to all communities. Also, there are contamination issues, most notably increasing salinization due to road salt runoff. There is also concern that in some regions groundwater pumping could decrease stream base flow and negatively affect aquatic biota.
The Fox River supplies water to two public water systems, Elgin and Aurora, with several communities in Kendall County evaluating using them in the future. Effluent discharges to the Fox will continue to grow in proportion to community growth throughout the watershed. Our analysis suggests that the Fox River could potentially accommodate an additional 14 to 58 Mgd in new withdrawals. This will depend on protecting minimum flow requirements and on how much treated wastewater is returned to the river. Water quality in the Fox River during low flow conditions could also adversely impact its availability.
Water Level Measurement Using the Airline Method
The Water Survey relies on communities and industries to take airline measurements from their deep sandstone and report those through the Illinois Water Inventory Program. It is very easy to make an error in this measurement process. In this video, Hydrogeologist Dan Hadley discusses the proper protocol for taking airline measurements
Recent Northeastern Illinois Publications
Sandstone Aquifer Fact Sheets
Historic Northeastern Illinois Publications