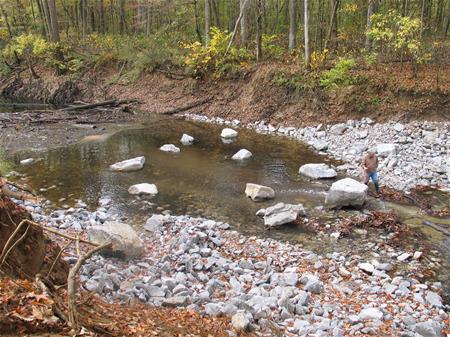 The goal of the SWAR Program are to conduct field- and aerial-based assessments of watersheds and streams to target and prioritize stream channel segments for restoration and to develop innovative conservation practices, designs, and management approaches which mitigate negative impacts of erosion and sedimentation at the local stream segment and landscape scale both in the State of Illinois and the Nation.
Program Objectives:
Conduct geomorphological and biological assessments at various landscape scales.
Develop, adapt, and scientifically test restoration designs and approaches for implementing innovative Best Management Practices.
Offer planning guidance and educational outreach to naturalize streams and watersheds and advance the adoption and use of innovative natural resource management approaches and in-stream channel stabilization and conservation practices.
Program Tasks:
Assess watershed development patterns and water quality trends.
Document geomorphological instability including changes in stream channel form (using Channel Evolution Models), channel stability indices, and flows (stream gauging).
Document current and past changes in habitat conditions using approved biological indices.
Document causative factors for landscape disturbance.
Target and prioritize stream channel stabilization needs.
Develop and demonstrate innovative restoration practices that comprehensively address causes of systemic problems and holistically restores or naturalizes watersheds, streams, and stream segments.
When possible document project and stream channel conditions including stream and river conditions that impact infrastructure and people.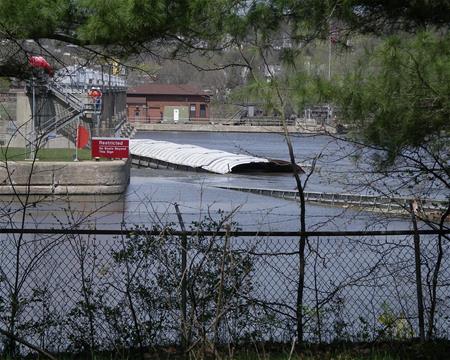 Rapid and accurate assessment and identification of landscape and stream channel instability at all scales combined with a determination of causative factors is critical when recommending restoration alternatives. The SWAR Program uses research results to develop or adapt restoration techniques and demonstrate innovative channel erosion control designs that stabilize the landscape, safeguard associated infrastructure, and sustain ecological biodiversity to improve the quality of life for Illinois residents.
The Program is credited for noteworthy analysis and restoration projects in the Embarras River, Cache River, Spoon River, Hall Creek, Waukegan River, Panther Creek, Cox Creek, Blue Creek, North Creek, Court Creek, Hickory Creek, and a host of other watersheds in Illinois. Learning experiences from these and other SWAR Program projects have been useful to other organizations across the United States and in other countries. Because of these past projects and learning experiences SWAR was included in Governor Pat Quinn's 2011 proclamation as an important milestone in efforts to protect the resources of the Illinois River.
Contact:
John Beardsley
Illinois State Water Survey
Prairie Research Institute
University of Illinois Urbana-Champaign
Illinois Central College
1 College Dr, Room 340G
East Peoria, Illinois, 61635-0001
Office: (217) 300-3474
Cell: (309) 299-5680
Email: jbeardsl@illinois.edu