Historic and Modern Landcover Within the Floodplain along the LaGrange Pool of the Illinois River
[Click on the area of interest to zoom in]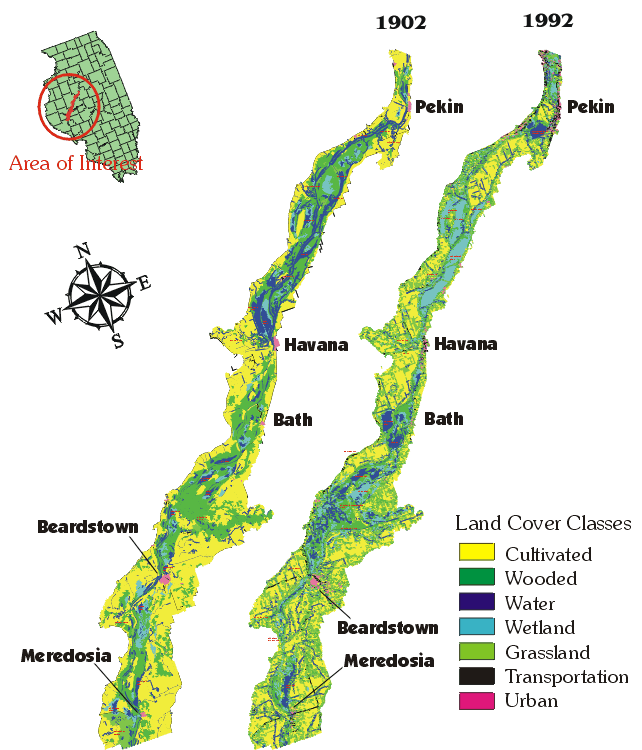 by Kingsley Allan and Misganaw Demissie
The 1904 Historic Landcover of Illinois River Floodplain is a digital version of the maps created by J. W. Woermann of the U.S. Army Corps of Engineers between 1902 and 1904. It was made as part of a multi-disciplinary project with researchers at the Illinois State Water Survey and the University of Illinois. Only a 75-mile portion of the maps within the series were digitized. A portion of the funding was provided by a grant from the National Science Foundation (NSF). Development of metatdata was partially funded through a cooperative agreement with the Federal Geographic Data Committee (FGDC).
1902 Data Set Credit: Kingsley Allan, Kathy Brown, Rama Duvvuri, Ravi Duvvuri, Jacob Krimbel, Dao Trinh and Ben Varner, Illinois State Water Survey.
Partially supported by EPA/NSF Water and Watershed Program grant DEB-9613562, John B.Braden, Principal Investigator.
1992 Land Cover Data Set Credit: Dr. Donald Luman, Mark Joselyn, Liane Suloway, Illinois Department of Natural Resources.
Composed by Dao Trinh, November 1999