Rainfall Trends in Northeast Illinois
Northeast Illinois annual precipitation (Fig. 1) averages about 37 inches (1971-2000 normal). But, the year-to-year variations can be quite large. Past annual values have ranged from less than 25 inches to more than 45 inches. Around 1970, the region became noticeably wetter and this continued into the 1990s. Between 1995 and 2005 the region was somewhat drier, highlighted by the drought year of 2005. Precipitation since 2005 has been much above normal every year through 2009.
The northeast Illinois region includes the counties of Boone, McHenry, Lake, DeKalb, Kane, DuPage, Cook, LaSalle, Kendall, Grundy, and Will. The smooth line in each of the graphs is a sixth order polynomial - a technique for fitting a smoothed curve to a set of points. Its use here is to illustrate the key features in graphs. This technique has no predictive skill of future patterns.
Winter precipitation (Fig. 2) has been relatively consistent over the last 50 years or so. The 1920s, 1930s, and 1940s were a period of somewhat lower winter precipitation. Spring precipitation (Fig. 3) was quite high in the late 1940s and early 1970s and very low in some years of the 1930s. However, there are no strong trends. Summer precipitation (Fig. 4) has generally been higher since the late 1950s than prior to that time. Also, the year-to-year variations have been higher since about 1970. In fact, the wettest 4 summers and the driest summer have all occurred since 1970. Fall precipitation (Fig. 5) is notable for the very large year-to-year variations, much larger than any other season. A number of wet falls occurred in the 1980s.
Trends at Selected Sites
Three better quality climate stations in the Chicago area were selected for further examination of trends in annual precipitation. Chicago O'Hare airport is probably the best-known station with complete annual records going back to 1959 (Fig. 6). During the 1960s and 1970s, annual precipitation at that site increased considerably from about 31 inches in the 1960s to 38 inches in the wet 1980s. Recent years have seen a slight decline in annual precipitation. The effects of the 2005 drought can be seen clearly in the annual precipitation for that year.
Chicago Midway airport was established before O'Hare and has a climate record that extends back to 1928 (Fig. 7). While O'Hare is on the western edge of Chicago metropolitan area, Midway is in a more urban environment and closer to Lake Michigan. The 1930s and 1940s were somewhat drier than present-day at Midway. The most notable feature of the 1950s and early 1960s was the high year-to-year variability of the annual precipitation. The Midway record suggests that the 1980s and the 1990s were relatively wet. Midway was just as dry as O'Hare in 2005 (24.59 and 24.09 inches, respectively) but was 5.6 inches wetter in 2006. Both sites have been considerably wetter through 2009.
Aurora has one of the longest and most complete climate records in the greater Chicago area (Fig. 8). Generally, the first half of the 20th century was drier than today with a noticable shift towards wetter conditions occuring in the 1960s and 1970s, just like O'Hare. Annual precipitation has decreased slightly through 2005. However, wetter conditions returned through 2009. Annual rainfall in Aurora has exceeded 45 inches on four occations (1972, 1987, 1990, and 1992) in the last 36 years since 1970 and only twice in the previous 70 years (1902 and 1954).
Taken together, these three sites suggest that the 1970s, 1980s, and 1990s were relatively wet decades compared to the earlier record. There is some evidence to suggest that the late 1990s and the early 2000s have been slightly drier with a considerable drop in 2005. Wetter than normal conditions prevailed between 2006 and 2009
Summary
The fluctuations in summer and fall are largely responsible for the behavior of annual precipitation in which the climate became wetter after 1970 until the mid-1990s, after which there have been more frequent dry years between 1995 and 2005.Significantly wetter conditions prevailed between 2006 and 2009.
Causes of Fluctuations
The cause(s), whether of natural or human origins, of the observed increase in total precipitation since 1970 are not known with any degree of certainty. One change that has occurred during the time period of the observed increases is an increase in atmospheric greenhouse gas concentrations and so this is one possible candidate. Indeed, increases in air temperature generally lead to increases in atmospheric water vapor content and global average annual temperatures have risen during the 20th Century. The Intergovernmental Panel on Climate Change's (IPCC) Fourth Assessment Report had indicated a high likelihood that much of the global temperature increase is a result of increased greenhouse gas concentrations.
In northeast Illinois, however, there is a "warming hole" and mean annual temperatures today are lower than in mid 20th century. Also, there have been documented increases in atmospheric water vapor content in the U.S., perhaps due to the increased atmospheric greenhouse gas concentrations. However, observed precipitation trends since the 19th century exhibit considerable regional and temporal variability that likely arise at least in part due to the natural variability of the climate system. High precipitation in the 19th century occurred when temperature in Illinois was considerably lower and, presumably, water vapor content also was lower than today. Thus, the observed relatively abundant precipitation in northeast Illinois since 1970 may have a natural component that cannot be attributed to a specific cause, or may be due entirely to natural factors. At this point, it is not possible to determine whether natural variability or global warming, or a combination of the two is the cause of the precipitation increases in northeast Illinois.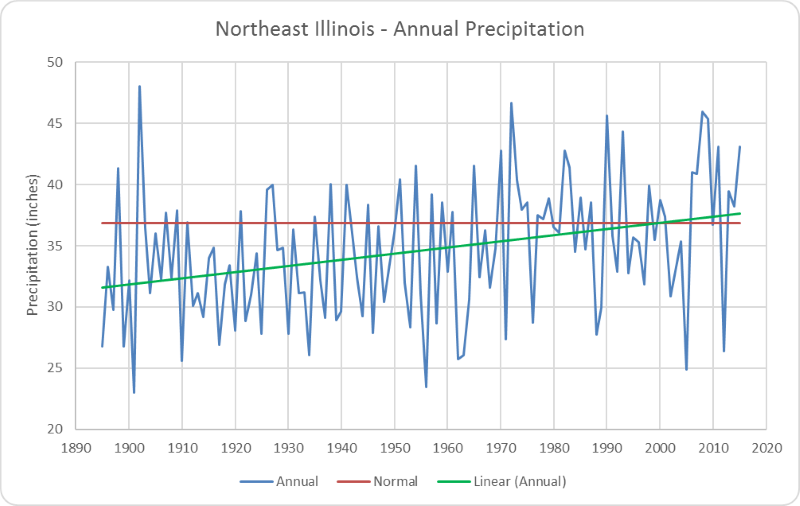 Figure 1. Northeast Illinois annual precipitation.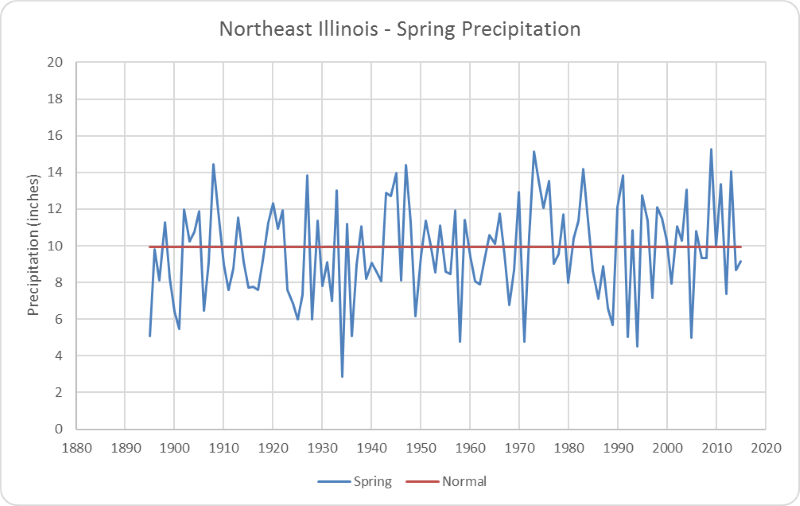 Figure 2. Northeast Illinois winter precipitation.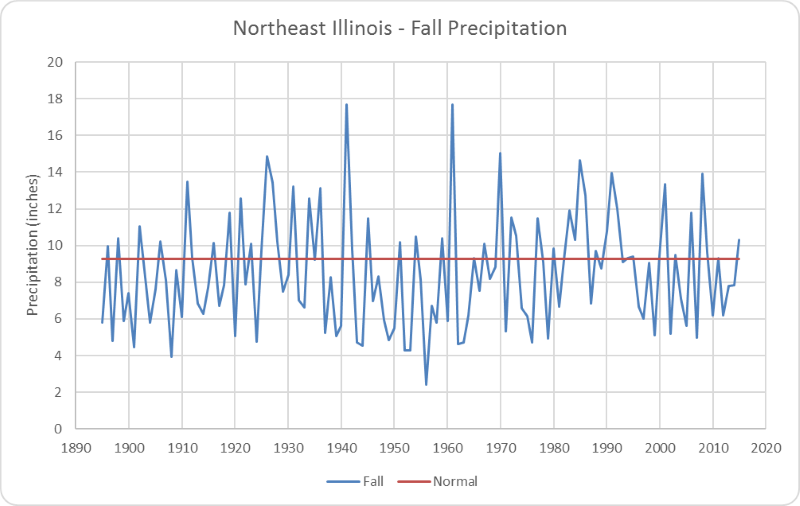 Figure 3. Northeast Illinois spring precipitation.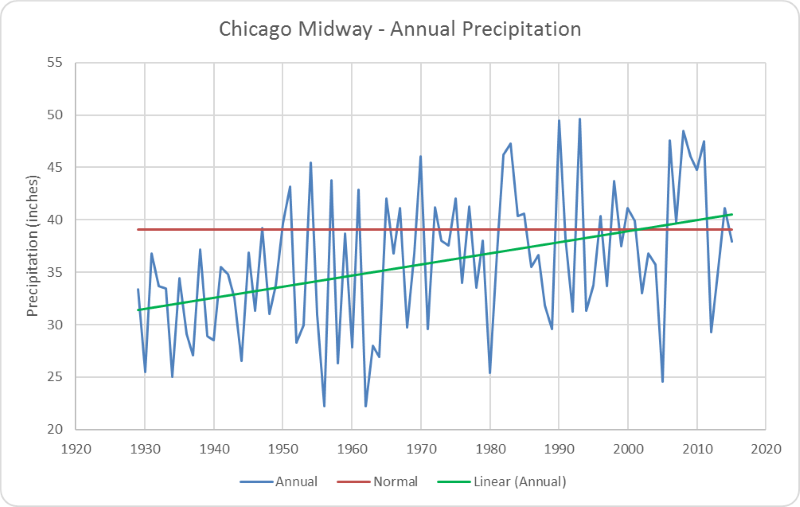 Figure 4. Northeast Illinois summer precipitation.
Figure 5. Northeast Illinois fall precipitation.
Figure 6. Chicago O'Hare Airport annual precipitation.
Figure 7. Chicago Midway Airport annual precipitation.