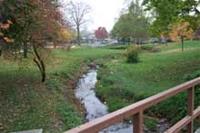 Scott Park
History
In 1946, the University of Illinois Department of Civil Engineering installed a network of recording raingages throughout Champaign-Urbana for hydrologic studies of the Boneyard. The department asked the fledgling meteorology group at the Illinois State Water Survey to take over three years later, and the network continued to operate for another decade.
After the demise of the "official" network in the early 1950s, Water Survey scientists were still interested in precipitation amounts across the area, so raingages were placed at staff members' homes, and the network continued. The raingage of choice became the Tru-Chek® wedge-shaped raingage. The locations of raingages and observers changed with staff interest and availability. Although the number of observers and their locations varied over the years, data were faithfully charted and filed away each month.
Precipitation data were being collected mostly out of general interest. That changed dramatically in July 1992 when the wettest month on record brought torrential rains to east-central Illinois. It was an excellent opportunity to show just how variable precipitation can be over a small area. A database was constructed to process and archive the data, and maps were generated to show the precipitation distribution.
The Boneyard Network Today
In 2007 observers participating in the Community Collaborative Rain, Hail, and Snow network in Champaign-Urbana were included in the Boneyard Network. Until that time the Boneyard Network consisted of volunteer observers in and around Champaign-Urbana, mostly current and former Water Survey staff members. Beginning on Nov. 1, 2008, the Boneyard Network became a sub network of the CoCoRaHS observers in Champaign County. This allows us to take advantage of the infrastructure and mapping capabilities of the CoCoRaHS program, which is now national in scope. Monthly maps of precipitation for the Boneyard Network will continue to be compiled and posted on this web page.
How to Access the Maps
To view precipitation, snowfall, and snow depth maps for the Champaign-Urbana area, go to the CoCoRaHS map page. Use the selection boxes at the top of the page to select the element, state, county and date for the map you wish to view. To see the map of Champaign-Urbana, select Champaign-Urbana in the Cities/Counties box. Note that you can view a map for any participating state and county in the U.S., not just Illinois. Listings of the data are also available under the View Data menu at the top of the page.
Maps and data are updated in real time, i.e. data appears on the map within minutes of the observer entering the data. Enhancements to the CoCoRaHS maps are being planned in the near future.