For Immediate Release June 8, 2017
Surveyors Collect Data on Home Elevations in North-Central Illinois for Flood Risk Project
CHAMPAIGN, Ill. - As part of an Illinois State Water Survey (ISWS) project to determine the risk of flooding for individual homes and businesses in floodplains, licensed surveyors will visit properties to measure the height of structures from late June to July for two pilot areas in the City of Ottawa and the City of Moline.
Surveyors will also be visiting properties in Peoria and Rock Island counties in July through October. Homeowners will be notified via postcard mailings that survey personnel will be taking measurements on their property.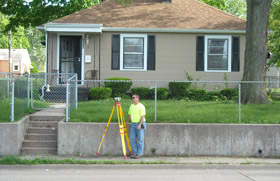 Teams of two surveyors will spend about 20 minutes on each property, measuring the elevation of the first floor and the lowest entry point for water flooding into a home. Approximately 3,200 homes will be surveyed in Rock Island County, 1,500 in Peoria County, and 120 in Ottawa.
As the season progresses, homeowners can access an updated schedule of site visits, as well as more information about the project on the website, http://go.illinois.edu/FRA/.
This project is part of a long-term effort to create a statewide database of elevations for individual structures and flood risk in communities. The data are crucial in determining the level of risk and creating action plans to prevent flood damage to homes and businesses, according to Lisa Graff, GIS Team Manager with ISWS at the University of Illinois.
Previous ISWS projects have determined where flooding is likely to occur in communities across Illinois. However, local officials also need to know the depth of potential flooding at the property level to make informed decisions on keeping homes safe from water inundation, thereby reducing financial losses.
Flood depth data can also be combined with insurance claims to determine the potential "hot spots" of significant damage. With this information, local authorities can inspect post-disaster repairs and prevent violations of the local floodplain management ordinance. By providing more precise flood risk information, this project aims to strengthen local ability to make informed decisions about reducing risk.
ISWS is partnering with the Illinois State Geological Survey, the Illinois Department of Natural Resources Office of Water Resources and the Illinois Department of Commerce and Economic Opportunity on this project.