For Immediate Release May 19, 2017
ISWS offers a flood assessment for critical facilities
CHAMPAIGN, Ill. - When a flood inundates a community, critical facilities such as hospitals and fire stations can lose electricity and equipment used to serve and protect citizens. A flood vulnerability assessment is now available for managers of critical facilities to identify their facility's susceptibility to flooding.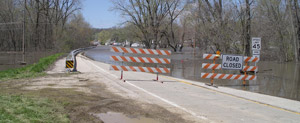 The Flood Vulnerability Assessment for Critical Facilities offers managers a set of questions to consider as well as recommendations and resources on steps they can take to reduce their facility's flood risk. Even facilities outside of a floodplain may be at risk, and would benefit from taking the assessment.
The Illinois State Water Survey's (ISWS) Coordinated Hazard Assessment and Mapping Program and the Midwestern Regional Climate Center, also a part of the ISWS, helped develop the tool. Illinois-Indiana Sea Grant, which is a part of Illinois Extension, was the lead organization in developing the tool. The assessment is now a part of the U.S. Climate Resilience Toolkit, which provides neighborhoods and businesses information to identify their local climate hazards and discover ways to reduce their risk.
The Flood Vulnerability Assessment for Critical Facilities is available at http://mrcc.isws.illinois.edu/FVA/index.jsp
The U.S. Climate Resilience Toolkit is available at https://toolkit.climate.gov/
Media contacts: Molly Woloszyn, mollyw@illinois.edu
Tricia Barker, Associate Director for Strategic Communications, 217-300-2327, tlbarker@illinois.edu