For Immediate Release October 3, 2016
Sixth Warmest September in Illinois
CHAMPAIGN, Ill. - September was the sixth warmest on record with statewide records going back to 1895. The statewide average temperature was 70.7 degrees, 4.5 degrees above normal, according to State Climatologist Jim Angel, Illinois State Water Survey, University of Illinois.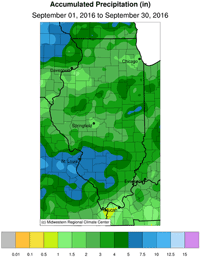 This year, September was tied in sixth place with 2005. The warmest September on record was a tie between 1933 and 1925 with a statewide average temperature of 72.2 degrees.
The average statewide temperature for January through September of this year was 57.8 degrees, 2.1 degrees above normal and the fifth warmest January through September on record. Every month, except May, has been warmer than the 1981–2010 normal.
September rainfall was 3.47 inches for a statewide average, which is just 0.24 inches above normal. Most areas received 3 to 5 inches of rain. However, southwestern Illinois was the wettest part of the state with between 5 and 7.5 inches of rain.
In the heart of the wet area, two sites in St. Clair County reported over 8 inches of rain: Mascoutah with 8.32 inches and Mascoutah with 8.17 inches.
The statewide average precipitation for January through September was 33.43 inches, 2.87 inches above normal. Although it was the wettest July–August on record, the entire period was ranked as only the 30th wettest on record because of the dry January through June.
The Illinois State Water Survey at the University of Illinois at Urbana-Champaign, a division of the Prairie Research Institute, is the primary agency in Illinois concerned with water and atmospheric resources.