For Immediate Release July 18, 2016
Soil Moisture Increases in Southern and Western Illinois
CHAMPAIGN, Ill. - Increased rainfall led to rises in soil moisture levels during the first half of July, according to Jennie Atkins, Water and Atmospheric Resources Monitoring (WARM) Program manager at the Illinois State Water Survey, Prairie Research Institute, University of Illinois.
The first two weeks of July had been wet with rainfall totals averaging 4.09 inches across the state.  Southern Illinois had received the most rain with a regional average of 5.48 inches.  An Illinois Climate Network station in Pope County reported 11.75 inches as of July 16, the highest in the network.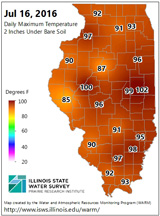 The rain had led to rises in soil moisture at the 2- to 8-inch depths.  The largest increases occurred in southern and western Illinois, regions which saw a drier June.  Two inch soil moisture increased 72 percent in southern Illinois and 55 percent in the west with average levels of 0.30 water fraction by volume (wfv) on June 16 for both regions.  Moisture levels in the east and north increased 7 percent and 10 percent, respectively, with regional averages of 0.24 wfv on July 16.
At depths of 4 and 8 inches, soil moisture rose 40 percent or more in the west and south with slight increases in the rest of the state.  Levels remained high at the deeper depths with statewide averages of 0.34 wfv at 20 inches, 0.43 wfv at 39 inches, and 0.42 at 59 inches.
Soil temperatures were slightly above the long-term average in mid-July.  The warmest temperatures were measured at 2 inches under bare soil, which averaged 81.4 degrees statewide on July 16.  Regional temperatures ranged from 77.6 degrees in the north to 84.1 degrees in the east.  At 4 inches under bare soil, temperatures averaged 80.1 degrees, 2.3 degrees above the long-term average.
Temperatures under sod were cooler with statewide averages of 78.1 degrees at 4 inches and 77.4 degrees at 8 inches.
The Illinois State Water Survey's WARM Program collects hourly and daily weather and soil information at 19 stations across the state.  Daily and monthly summaries can be found at the WARM website (http://www.isws.illinois.edu/warm/) and in the Illinois Water and Climate Summary (http://www.isws.illinois.edu/warm/climate.asp). 
The Illinois State Water Survey at the University of Illinois at Urbana-Champaign, a division of the Prairie Research Institute, is the primary agency in Illinois concerned with water and atmospheric resources.