For Immediate Release May 5, 2015
ISWS Provides Resources for Irrigation Reporting
CHAMPAIGN, Ill. - Starting this growing season, farm irrigators who use high capacity wells or intakes are required to report their water use.  The Illinois State Water Survey (ISWS) has created a website to assist irrigators with this mandatory reporting process, according to Steve Wilson, ISWS groundwater hydrologist.
An amendment to the Illinois Water Use Act in 2010 gave agricultural irrigators five years to comply.  A high capacity well/intake is defined as a single point of withdrawal or a series of points that together pump more than 70 gallons per minute.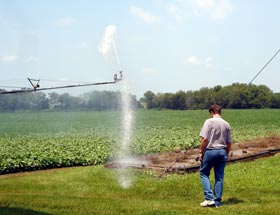 Field Irrigation at an ISWS Workshop in Mason County
Irrigators can estimate their water withdrawals using a method approved by the ISWS if their water withdrawals are not metered.  One method uses the number of inches applied times the number of acres (number of inches applied x acres x 27,150 gallons per acre-inch).  The second method is the number of hours that the irrigation system runs multiplied by the gallons per minute plus acres (hours ran x rated gallons per minute of system x 60 min/hour).
These methods are explained on a website with resources to help farmers with the reporting process. Provided are printable and fillable forms for recordkeeping and calculations and a video tutorial on how to locate GPS coordinates of well locations using Google Maps.  The website address is: http://www.isws.illinois.edu/gws/iwip/irrigation/
Wilson noted that farmers should gather the information during the growing season and report the results in the fall.
"Understanding water withdrawals and how they relate to changes in water levels in wells and effects on streamflow is critical to understanding water availability, aquifer yield, and information regarding the sustainability of a water supply, Wilson said."  "Collecting this information is necessary to answer basic questions about how future/additional water use might affect wells and water supplies, as well as in determining what areas are more at risk to have limited water resources."
Wilson also noted that the act requires that pumpage information be submitted to the ISWS for every high capacity well and intake, regardless of use. Agricultural irrigators were given five years to comply, while all other high capacity well users should have been reporting since 2010.
For questions about the reporting process, contact Steve Wilson or Karen Bridges at (217) 300-4731.