For Immediate Release April 9, 2015
Anniversary of First Hook Echo Tornado Captured on Radar
CHAMPAIGN, Ill. - Today is the 62nd anniversary of the first documented case of a tornado detected by radar. Illinois State Water Survey staff captured the historic event on film on April 9, 1953. This discovery helped lead to the first national weather radar network in the United States, according to Illinois State Climatologist Jim Angel, Illinois State Water Survey, University of Illinois.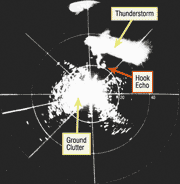 First radar tracking of a tornado's hook echo
The radar was located at Willard Airport, south of Champaign IL, and was being used along with a rain gauge network to relate radar signals with rain rates. Don Staggs, the radar technician, had stayed late to complete repairs on the radar.
While testing the repairs, he noticed an interesting radar return and began recording the radar scope using the mounted 35 mm camera. As a result, he captured a well-defined hook echo on film.
Afterwards, researchers related the radar data that Staggs recorded to detailed damage reports along the tornado's path.
The 1954 Water Survey report on the tornado stated, "It may be possible to establish radar storm warning systems in tornado areas to reduce loss of lives." The April 9, 1953, event, along with subsequent events, helped provide the push in the US for developing a nationwide network of weather radars.
The Illinois State Water Survey at the University of Illinois at Urbana-Champaign, a division of the Prairie Research Institute, is the primary agency in Illinois concerned with water and atmospheric resources.