For Immediate Release March 25, 2015
Illinois has Four Odd Tornado Seasons in a Row
CHAMPAIGN, Ill. - The 2015 tornado season thus far in Illinois and the rest of tornado alley is incredibly quiet. However, this quiet start is no reason to relax if the past few years are a guide, according to Illinois State Climatologist Jim Angel at the Illinois State Water Survey, University of Illinois.
No tornadoes have been reported this year, except in the far Southeastern U.S. and one in California. Historically, the heart of the Illinois tornado season is March to June with two-thirds of tornadoes occurring during those months. In the past few years, however, Illinois has had more tornadoes occur outside of this period than inside.
Illinois Tornadoes (EF1-EF5) 2012 to 2014
In addition, many of these tornadoes have been concentrated in just a few days of the year. In fact, 69 percent of tornadoes in 2012-2014 occurred in just five days. These high concentrations can put extra strain on forecasting, warning, and recovery operations.
In 2012, drought was the big story, Angel said. Typically, drought years tend to have lower tornado counts: fewer thunderstorms lead to fewer tornadoes. Out of only 15 reports in 2012, 7 of those occurred on February 29 (a leap year). As the drought became widespread in March through August, the tornado count plummeted.
2013 was a quiet year until the massive tornado outbreak of November 17.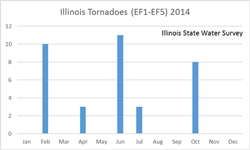 Illinois Tornadoes (EF1-EF5) 2014
"This is why a quiet tornado season can lead to a false sense of security," Angel said.  "All it takes is one day with the right conditions for all that to change. In 2013, it was November 17. What's especially odd about the November 17 outbreak is that it occurred in a colder-than-average November."
2014 was a moderate year with 35 tornado reports. However, 82 percent of those occurred on just three days: February 20 (10), June 30 (10), and October 13 (8). As in the other years, two of these outbreaks occurred outside of the traditional tornado season.
When 2012, 2013, and 2014 are combined, the distribution of tornadoes by month does not match our idea of the tornado season. In fact, the busiest month by far was November with February in second place, and October in fourth place.
Is this a signal of climate change?
"It is hard to say at this point because it is too short of a record to draw conclusions," Angel said. "In addition, this analysis is just for Illinois. Changes in Illinois could be offset by changes elsewhere in the U.S."
Even if the change is short-term, the need to stay vigilante for tornado watches and warnings, regardless of the time of year, is important, Angel concluded.
The Illinois State Water Survey at the University of Illinois at Urbana-Champaign, a division of the Prairie Research Institute, is the primary agency in Illinois concerned with water and atmospheric resources.