For Immediate Release February 27, 2014
National Groundwater Awareness Week: March 8–14, 2015
CHAMPAIGN, Ill. - About half the U.S. population receives its drinking water from wells. Many cities in Illinois, including Champaign-Urbana, Normal, and most of the western and southern suburbs of Chicago, get some or all of their drinking water from groundwater sources. In addition, almost all rural residents use groundwater. During National Groundwater Awareness Week, we want to promote stewardship of this important resource, to protect and conserve it.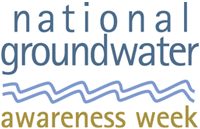 National Groundwater Awareness Week
If you own a well, it is your responsibility to keep it in good working order, according to Walt Kelly, head of the Groundwater Science Section at the Illinois State Water Survey (ISWS), Prairie Research Institute, University of Illinois.
Just as you check your furnace or smoke detector batteries seasonally, spring is a good season to have an annual water well checkup before the peak water use season begins, according to the National Ground Water Association (NGWA). An annual checkup by a qualified water well contractor is the best way to ensure problem-free service and quality water.
Preventative maintenance usually is less costly than emergency maintenance, and good well maintenance—like good car maintenance—can prolong the life of your well and related equipment. NGWA further recommends you test your water whenever there is a change in taste, odor, or appearance, or when the system is serviced.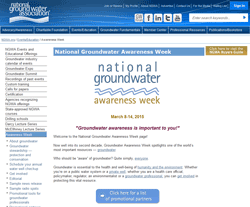 National Groundwater Awareness Week website
There are several steps a well owner can take to prevent well water contamination. Keep hazardous chemicals, such as paint, fertilizer, pesticides, and motor oil far away from your well, and maintain a "clean" zone of at least 50 feet between your well and any kennels and livestock operations.
Maintain proper separation between your well and buildings, waste systems, and chemical storage areas. Periodically check the well cover or well cap on top of the casing (well) to ensure it is in good repair and securely attached. Its seal should keep out insects and rodents.
Finally, keep your well records in a safe place. These include the construction report, and annual water well system maintenance and water testing results.
The ISWS Public Service Laboratory (PSL) provides a complete mineral analysis for private well owners for $35. To contact the PSL for a sample test kit, call (217) 333-9321. For bacteriological analyses, contact your local public health department.
In addition, the Groundwater Science Section provides a Private Well Class, a free, step-by-step online education program to help well owners understand groundwater basics, well care best practices, and how to find assistance. It will also teach well owners how to sample their well, how to interpret sample results, and what they can do to protect their well and source water from contamination. For more information, visit the Private Well Class website (http://www.privatewellclass.org) or contact info@privatewellclass.org.
For more information about Groundwater Awareness Week, visit this site: http://www.ngwa.org/Events-Education/awareness/Pages/default.aspx
The Groundwater Science Section at the Illinois State Water Survey conducts research, collects and analyzes data, provides public service on groundwater issues important to the citizens of Illinois, and serves as the State's primary repository of groundwater records and data.http://www.isws.illinois.edu/gws/