For Immediate Release December 15, 2014
Chance of a White Christmas in Illinois
CHAMPAIGN, Ill. - It's beginning to look a lot like Christmas, but will it be white?  A white Christmas is defined as at least an inch of snow on the ground on Christmas Day. It should come as no surprise that the highest odds are in northern Illinois, according to Illinois State Climatologist Jim Angel, Illinois State Water Survey, University of Illinois.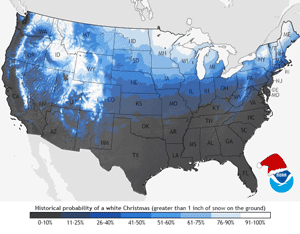 Historical probability of a white Christmas
"In general, the odds are about 40-60 percent in the northern third of Illinois, 20-40 percent in central Illinois, and 0-20 percent in southern Illinois," Angel said.
There can be large differences between nearby sites. Snowfall is notoriously difficult to measure with the potential for two nearby sites having different results due to exposure to the sun and the wind.
After a cold November, December has been much milder this year. The latest National Weather Service 8- to 14-day forecast includes December 25 and continues to show Illinois with a good chance of warmer-than-average temperatures.
"However the latest National Weather Service forecast includes December and shows a return to near-average temperatures and above-average precipitation," Angel said.
Compared with nearby states, as you would expect, the odds of a white Christmas are highest in Minnesota and Wisconsin for the Midwest. Odds are high in New England and the higher elevations in the West as well.
The Illinois State Water Survey at the University of Illinois at Urbana-Champaign, a division of the Prairie Research Institute, is the primary agency in Illinois concerned with water and atmospheric resources.