For Immediate Release October 7, 2013
September was Dry and Warm in Illinois
CHAMPAIGN, Ill. - Dry conditions were widespread across Illinois in September, and temperatures were above average for the first time in several months, according to Illinois State Climatologist Jim Angel at the Illinois State Water Survey, Prairie Research Institute, University of Illinois.
Statewide precipitation for the month was 1.87 inches, which is 1.39 inches below average and the 14th driest September on record. Only a few locations received 3 or more inches in Illinois, including the Chicago area, far western Illinois, and the southeast corner of the state. Several areas received less than an inch of precipitation. Overall, the precipitation departure for September was 57 percent of average.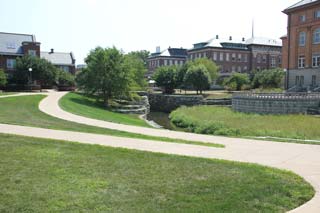 This was the 6th driest July–September on record for Illinois with 6.64 inches (4.24 inches below average). Ironically, this came just after the wettest January–June on record for Illinois with 28.96 inches (9.13 inches above average).
This is the third month in a row with below-average precipitation. In July, Illinois received 3.14 inches (0.91 inches below average). In August, Illinois received 1.63 inches (1.37 inches below average).
The statewide temperature for Illinois in September was 68.8 degrees, 2.9 degrees above average. It was warm but not record-setting. The warmest September on record was 1925 with 72.7 degrees.
"The first part of October was very summer like with temperatures over 9 degrees above average and widespread rains that averaged 1.2 inches," says Angel, "before the cold front on Sunday finally brought temperatures more in line with October."
The Illinois State Water Survey at the University of Illinois at Urbana-Champaign, a division of the Prairie Research Institute, is the primary agency in Illinois concerned with water and atmospheric resources.