For Immediate Release May 8, 2012
Stanley Changnon, Jr. 1928–2012
Stan Changnon, Jr., world-class atmospheric scientist of the Illinois State Water Survey, passed away on May 1, 2012. An Illinois native, Stan earned his B.S. degree in geography in 1951 and a M.S. degree in geography in 1956 from the University of Illinois. He began his professional career as a student at the Illinois State Water Survey in 1951 and became Chief of the Water Survey in 1981. After five years, he retired and was awarded the title of Chief Emeritus and returned to his research as a Principal Scientist at the Water Survey until 2011, a productive 61-year career.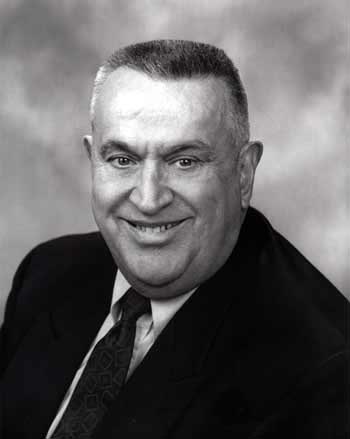 Among his many contributions to the atmospheric sciences was his groundbreaking work on how major cities such as Chicago and St. Louis impact the regional weather. His areas of expertise in climate included climate change, physical and societal impacts of climate, and weather and climate extremes. He served on many national advisory groups, including the Climate Research Committee of the National Academy of Sciences.
While his scientific interests were wide-ranging, almost all of them had close ties to Illinois. Much of his early research focused on hail, drought, and heavy rainfall in Illinois. Later, many of his most highly cited scientific publications addressed the atmospheric conditions and impacts of the 1988 Midwestern drought, the 1993 Mississippi River flood, and the 1995 and 1999 Chicago heat wave. Throughout his career he provided expertise to the citizens of Illinois on a variety of weather and climate issues facing the state.
He was the first non-federal state climatologist for Illinois, serving from 1973 to 1981. Stan conceived the national network of regional climate centers and established one of these, the Midwestern Regional Climate Center, at the Illinois State Water Survey in 1983. That network of regional climate centers remains active today. He worked closely with a number of researchers at the University of Illinois and served as Adjunct Professor of Geography and Atmospheric Sciences on campus.
He has more than 400 peer-reviewed papers published in scientific journals, over 500 other reports, and has authored more than eight scientific books. His awards for scientific accomplishments include those from the American Meteorological Society, American Association for the Advancement of Science, American Geophysical Union, and the American Water Resources Association.
His most recent and prestigious honor was becoming an Honorary Member of the American Meteorological Society in January 2011. Honorary Membership is awarded to American Meteorological Society members acknowledged for their preeminence in the atmospheric or related oceanic or hydrologic sciences, through their own contributions to the sciences, or through furtherance of the advancement of those sciences. Only 102 Honorary Members have been awarded since 1919.
Stan Changnon's contribution to the understanding of climate and its impacts on society during this 61-year career are unparalleled. In addition, his years of mentoring, encouragement, and words of wisdom have influenced an entire generation of scientists in the field of applied climatology.