For Immediate Release June 16, 2005
Recent Rains Ease Drought Concerns in Western and Southern Illinois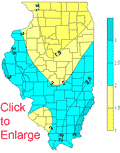 Figure 1. Precipitation (inches) June 1 to June 15, 2005
"Timely rains over the last week have eased drought concerns in western and southern Illinois. In the first half of June, measured totals of 2–3 inches in those two areas were common, while radar-estimated rainfall at some locations was even higher. Unfortunately, the rains were less widespread in portions of northern and central Illinois, which generally received less than 2 inches," says State Climatologist Jim Angel of the Illinois State Water Survey (http://www.sws.uiuc.edu), a division of the Illinois Department of Natural Resources.

Figure 2. Precipitation Departure from Normal for March 1 to June 15, 2005
"Spring in Illinois this year was exceptionally dry (53 percent of normal and the 4th driest spring since 1895). That pattern continued during the first seven days of June (41 percent of normal), which also introduced warmer temperatures. Statewide temperatures June 1–7 were 4.5 degrees above normal, and temperatures in the 90s were common. Those conditions also led to signs of moisture stress in corn and soybeans, and the U.S. Drought Monitor declared much of Illinois to be in a "moderate" drought. For June 8–15, however, statewide precipitation was 135 percent of normal (1.55 inches) with temperatures 4.7 degrees above normal. As a result, the latest U.S. Drought Monitor report reduced the extent of moderate drought in Illinois in portions of western and southern Illinois," says Angel.

Figure 3. Precipitation Percent of Normal for March 1 to June 15, 2005
Until June, the statewide precipitation pattern has been reminiscent of that in 1988, which was preceded by a wet winter (9.15 inches compared with 9.01 inches for winter 2004-2005) followed by a dry spring (6.87 inches compared with 6.02 inches in 2005). The crucial difference is that the warm, dry conditions prevailed throughout June 1988 (1.05 inches), but precipitation has been more favorable this month (1.92 inches as of June 15, 2005). National Weather Service forecasts for the rest of June call for below-normal precipitation. This week's cooler temperatures also will revert to warmer ones after the weekend.
"Despite recent rains, precipitation deficits in central and northern Illinois since March 1 remain large, on the order of 5–6 inches below normal, a situation that the ISWS will be monitoring closely. Deficits in both western and southern Illinois are 3–5 inches below normal, still a concern as summer progresses. In 1988, deficits were 5–6 inches below normal across the entire state and much of the Midwest," adds Angel.
A new ISWS Web page provides more information about drought and related topics for Illinois (http://www.sws.uiuc.edu/hilites/drought/).

Disclaimer: The maps presented here depict the general conditions of the state. Some local areas may receive more or less rainfall than what is shown here.