For Immediate Release January 27, 2003
Winter Snowfall Pattern Topsy-Turvy in Illinois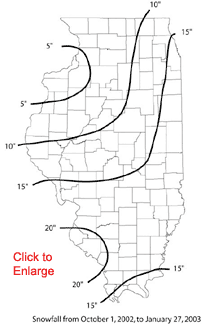 "Snowfall totals in excess of 20 inches in southern Illinois and little snow in northern Illinois (see map), the reverse of what normally occurs in winter, could be due to the current weak El Niño, " says State Climatologist Jim Angel of the Illinois State Water Survey (http://www.sws.uiuc.edu), a division of the Illinois Department of Natural Resources.
"The southern storm track becomes more active, and storm tracks from Colorado and Canada become less active during El Niño years. The current El Niño has been weakening since December, and its influence should soon fade," explains Angel.
Effects in Illinois this winter have been quite dramatic. Chester, 50 miles south of St. Louis, has had 22 inches of snowfall, compared to its 15.6-inch normal winter average. Moline, northwestern Illinois, only has had 1.3 inches, compared to its 35.3-inch normal winter average. With 10-15inches, central Illinois is fairly close to its 15-inch average accumulation of winter snowfall
"Low snowfall totals have led to large areas of bare ground in northern Illinois. Fairly meager snow cover currently extends from Chicago, Peoria, and Springfield to Effingham, with most stations reporting only 1 or 2 inches. Snow acts as an insulator, but no snow is reported on the ground north of that line. Consequently, soil temperatures at some northern Illinois sites have dropped below freezing at depths of 15 inches or more, wreaking havoc with water mains," says Angel.
Snowfall also plays a role in the occurrence of sub-zero temperatures because it reflects sunlight during the day and radiates heat back into space on clear nights. Both processes lead to colder air temperatures. A location is about 10 times more likely to drop below zero with some snow on the ground than without snow.
"About the only way to achieve temperatures below zero without snow is with strong arctic air outbreaks, and we've had those too. Temperatures plunged into single digits below zero across northern and central Illinois, while southern Illinois remained barely above zero last week," says Angel.
Similar conditions not too long ago made it even colder in Illinois. Temperatures plummeted from arctic air on January 5, 1999. Congerville set a new state record of -36 degrees compared to temperatures of -30 to -20 degrees (most northern Illinois sites), -30 to -10 degrees (central Illinois), and -15 to 0 degrees (southern Illinois).
"The National Weather Service is calling for warmer temperatures over the next week, much closer to normal, and also for the month of February. January is typically our coldest month in Illinois," concludes Angel.